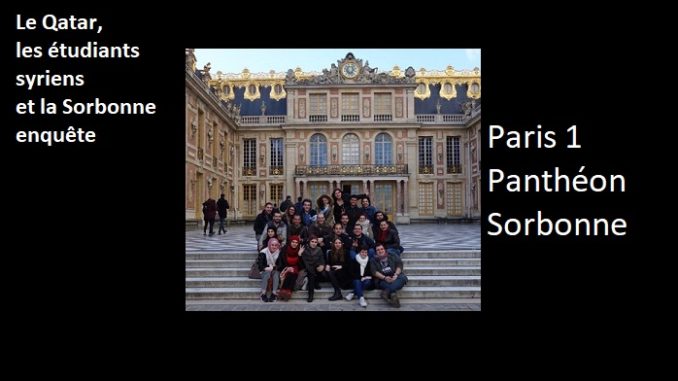 The grand bazaar in the allocation of university accommodation with the consequences that implies.
Housing allocation creates significant stress
The more we advance in this investigation that is concerning welcome conditions of Syrian students, who are helped by Qatar to study in Paris 1 Panthéon-Sorbonne, the more we wonder about the real will of the administration of this university.
Were Syrian students finally welcome? The lack of professionalism in recruitment and orientation towards them made us fear the worst.
Many studies have shown that the stress of transition to university is manifested by anxiety, somatic disorders, depression and obsessive symptoms in about one third of students. But an element such as the allocation of university accommodation has complicated the lives of Syrian students who had responded to the Emir of Qatar's appeal, confirming that this financial aid was a special gift for the Syrian people.
Amongst the 111 students of which the press and the University speak, there are only about thirty Syrians who will have a university accommodation. We are far from the commitment of the President of the University who spoke about providing accommodation for all recipients of aid from Qatar. The administration will even say a few weeks later: As stated in the conditions of the program, the program and the university do not have any university accommodation. We have also asked all students for a proof of residence because unfortunately, we are not able to provide a solution for housing.
Despite what you just have read above, we recognise again the same problem for the allocation of accommodation as in the recruitment process.
  There are about thirty Syrian students who had a housing paid by Qatari aid or by help from the CROUS.
There are also many foreigners who get housing while it was denied to Syrians, like the Saudi who enjoyed housing for three years without once attending a course.
There are also aberrations like this Libyan student who will manage to have two university accommodations so that she can sublet one. This person has worked for full time, and has only to come to university dormitory to sleep.
The administration of the university never stopped saying, at the time of the attribution of a lodging « especially do not say anything to your colleagues. « 
We could cite other aberrant cases, but the most serious issue is related to the consequences for the Syrian students who dropped out of university because they came from too far away, or they resided in unacceptable conditions that aggravated the stress of starting one's studies at the university.
The questions that come up again and again while listening to these students are: but where did the money of Qatar go? And for what did it serve? And how do we manage our studies with this sort of bazaar?
The worst was yet to come!