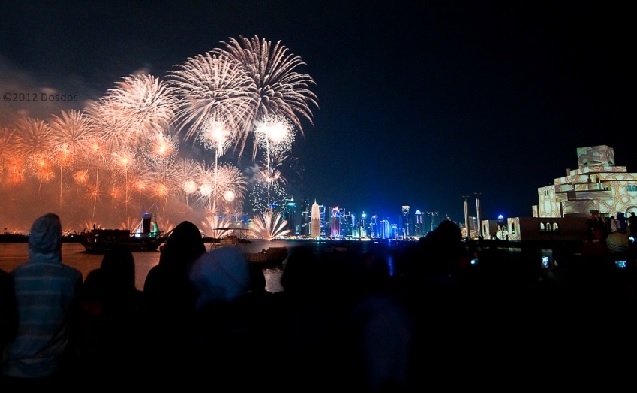 Au Qatar le weekend traditionnellement c'est le vendredi et le samedi or cette année la fête nationale tombe le jeudi 18 décembre. Un long weekend en perspectives avec d'innombrables festivités.
Le secrétariat de l'émir informe par le canal de Qatar News Agency
Doha, December 17 (QNA) – On the occasion of Qatar's National Day, the Emiri Diwan on Wednesday announced that Thursday, the 18th of December 2014, will be an official holiday.
All employees shall resume work on Sunday, the 21st of December 2014. (QNA)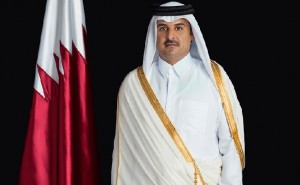 Photos sur TWITTER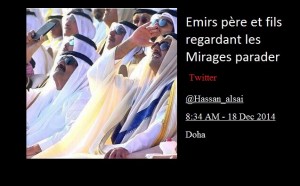 Parade photos Doha News
 Message de QNA pour cette journée
Doha, December 18 (QNA) – HH the Emir Sheikh Tamim bin Hamad Al-Thani attended the country's 7th national parade which was held on the Doha Corniche this morning.
HH the Father Emir Sheikh Hamad bin Khalifa Al-Thani also attended the event.
HH the Personal Representative of HH the Emir Sheikh Jassim bin Hamad Al-Thani, HH Sheikh Abdullah bin Khalifa Al-Thani, HH Sheikh Mohammed bin Khalifa Al-Thani and Their Excellencies the sons of HH the Father Emir attended the parade, as well.
The event was also attended by HE the Prime Minister and Interior Minister Sheikh Abdullah bin Nasser bin Khalifa Al-Thani, HE Speaker of the Advisory Council Mohammed bin Mubarak Al Khulaifi and his deputy, as well as a number of Their Excellencies Sheikhs, Ministers and distinguished guests along with Their Excellencies heads of diplomatic corps accredited to the State and a number of senior army officers and the Ministry of the Interior, in addition to a large crowd of citizens and residents.
The parade started with the national anthem and the firing of 18-shot gun to celebrate the National Day, followed by a recitation of verses from the Holy Quran. 
The parade included the thorough-bred and purely Arabian horses and camels, a dropping of parachutists belonging to the Armed Forces and the Internal Security Force (Lekhwiya) and the infantry columns of the Army, the Police and the Emiri guard. 
It also included a procession of the old and modern armored vehicles, gears and equipment, an air parade of the air fighters and helicopters and a naval parade, in addition to a parade for marine boats and paragliding. 
The parade's participants were all units of the armed, land, air, maritime forces as well as personnel of the Ministry of the Interior's civil defense, coast and border security and traffic and personnel of police college and national service and students of Qatar Leadership Academy. 
Students belonging to schools, the Shafallah Center, Al-Noor Institute for the Blind and children dressed in Emiri guard uniforms in addition to classical vehicles and vehicles belonging to Hamad Medical Corporation and a number of dhow boats also took part in the parade. (qna)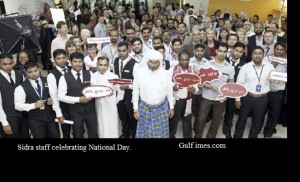 Moe al Thani planting qatari flag South pole